News
Unprecedented number of teams, 27, started the Championship in the capital of Latvia. There were 9 women's teams and 17 men's teams totaling 133 players.

The Club Danube, well known from many Austrian Junior Opens, was the venue of this course . For Vienna-based tutor Michael Khan it was an unusually short travel to a coaching course – "normally I take a plane, this time the metro!"

Confirmed dates are now here!
Latest News
General News
The number one seed did not dissapoint as they beat France 2:1 in the final at Bielsko-Biala, Poland.
General News
Apr032018
Victor Crouin retained his Individual European U-19 title in Bielsko Biala (Poland) while Lucy Turmel became the 10th English winner of this millenium.
General News
Mar142018
The high number of players is proof that Valencia is an attractive city and that the European circuit keeps growing every day.
European Squash Federation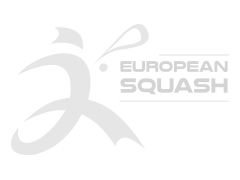 ESF, Wrocław
02/05/2018 to 05/05/2018
Division 1 - Men, Division 2 - Men,...