News
The high number of players is a proof that Valencia is an attractive city and that the European circuit keeps growing every day.

Championship Regulations for 2018 are now republished
Latest News
General News
Players from 23 countries competed in the 11 categories, during the 3 days of the competition.
General News
Jan052018
Over the weekend of 8th-10th December 2017 the 2nd Wales European Squash Masters Open took place in the Welsh Capital, Cardiff.
General News
Dec212017
We are pleased to announce entries open on 1st Janury 2018! (Deadline 31st January)
For all information on each of the six Championships, please go to our event calendar page 2018.
European Squash Federation

ESF, Bielsko-Biała
24/03/2018 to 27/03/2018
U19 Boys, U19 Girls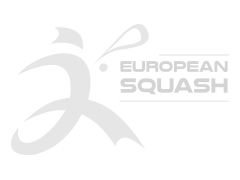 ESF, Bielsko-Biała
29/03/2018 to 01/04/2018
U19 Team