News
It is with great sadness that ESF notes the passing of former ESF President Brian Fitzgerald.

Over the weekend of 9th-11th December Cardiff welcomed 130 squash players from all over Europe for the Wales leg of the 2016 European Masters Circuit. The first time the Wales Masters Open has been included on the European Circuit.

With 79 entries the Dutch Open Masters 2016 was a great success
Latest News
General News
This was the first Masters tournament held in Belgium, and it was a truly great experience!
General News
Oct032016
As always the kids enjoyed a well-organized tournament at HEAD Danish Junior Open 2016.
General News
Sep212016
Camille Serme from France claimed her fifth European title in Prague. Borja Golan was able to beat the defending champion Gregory Gaultier and lift his first European title...
European Squash Federation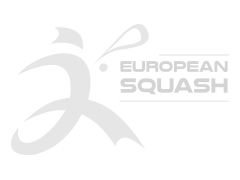 ESF - CZECH SQUASH ASSOCIATION, Prague
20/01/2017 to 22/01/2017
BU11, GU11, BU13, GU13, BU15, GU15,...

ESF, Matosinhos
20/01/2017 to 22/01/2017
M35+, W35+, M40+, W40+, M45+, W45+,...