News
From the 9th till the 11th of November we organised the Belgian Masters Open in Olympia Hasselt.

The ESF Code of Conduct is designed to safeguard the future well-being of Squash. The Code covers the respective involvement in all aspects of ESF Championships of MNFs, hosts, players, coaches managers, officials, spectators and administrators.

For us, organisers, the biggest reward was positive feedback & the numerous thanks which we received from players and assurances that they will visit us next year, bringing their friends with them.
Latest News
General News
Innovative Squash Showcase Captures Minds Of Buenos Aires Schoolchildren
General News
Oct092018
Hamburg, Germany attracts 269 entries
General News
Oct092018
The Trophy of Belgrade for Juniors was held at their new club in Belgrade, Serbia.
European Squash Federation

ESF - POLISH SQUASH FEDERATON, Wrocław
16/11/2018 to 18/11/2018
BU11, GU11, BU13, GU13, BU15, GU15,...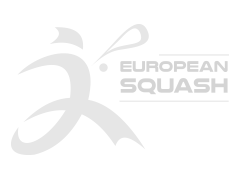 ESF - Irish Squash Federation, Dublin
23/11/2018 to 25/11/2018
Boys U13, Girls U13, Boys U15, Girls...