News
We are back on Tuesday 23rd April

First ever European titles for Czech republic and Poland in the European U19 Individual Championships 2019 hosted in Prague.




England National Coach David Campion has named his nine-strong squad which will head to the European Men's and Women's Team Squash Championships at Edgbaston Priory Club, Birmingham from 1-4 May.
Latest News
General News
Poland's Men's and Russia's Women are the winners of ETC Div.3
General News
Mar212019
Birmingham welcomes the World's top squash players to the ETC 2019
General News
Mar062019
Last weekend the German Junior Open took place in Sportwerk Hamburg.
Boys Overall

| | | | |
| --- | --- | --- | --- |
| 1 | 1 | Yannick Wilhelmi | 25,679 |
| 2 | 1 | Viktor Byrtus | 25,516 |
| 3 | | Sam Buckley | 24,439 |
| 4 | | Marek Panacek | 20,648 |
| 5 | | Lewis Anderson | 20,160 |
| 6 | | Conor Moran | 19,745 |
| 7 | | David Maier | 19,245 |
| 8 | | Ivan Pérez | 16,952 |
| 9 | | Alasdair Prott | 16,551 |
| 10 | | Blaž Porenta | 15,307 |
Girls Overall

| | | | |
| --- | --- | --- | --- |
| 1 | | Alina Bushma | 27,760 |
| 2 | | Michaela Cepová | 22,829 |
| 3 | | Ambre Allinckx | 21,460 |
| 4 | | Evie Coxon | 20,573 |
| 5 | 1 | Fleur Maas | 18,632 |
| 6 | 1 | Klara Møller | 17,963 |
| 7 | 2 | Cristina Tartarone | 17,775 |
| 8 | 2 | Alesya Aleshina | 17,628 |
| 9 | 2 | Selena Georgieva | 17,564 |
| 10 | 3 | Madeleine Hylland | 17,528 |
B19

| | | | |
| --- | --- | --- | --- |
| 1 | 1 | Yannick Wilhelmi | 25,679 |
| 2 | 1 | Viktor Byrtus | 25,516 |
| 3 | | Sam Buckley | 24,439 |
| 4 | | Lewis Anderson | 20,160 |
| 5 | | Conor Moran | 19,745 |
| 6 | | David Maier | 19,245 |
| 7 | | Ivan Pérez | 16,952 |
| 8 | | Alasdair Prott | 16,551 |
| 9 | | Blaž Porenta | 15,307 |
| 10 | | Manuel Paquemar | 15,307 |
G19

| | | | |
| --- | --- | --- | --- |
| 1 | | Alina Bushma | 27,760 |
| 2 | | Michaela Cepová | 22,829 |
| 3 | | Ambre Allinckx | 21,460 |
| 4 | 1 | Evie Coxon | 20,573 |
| 5 | | Fleur Maas | 18,632 |
| 6 | | Klara Møller | 17,963 |
| 7 | 1 | Cristina Tartarone | 17,775 |
| 8 | 1 | Selena Georgieva | 17,564 |
| 9 | 2 | Madeleine Hylland | 17,528 |
| 10 | | Sofia Mateos de la Llave | 17,200 |
B17

| | | | |
| --- | --- | --- | --- |
| 1 | | Marek Panacek | 20,648 |
| 2 | | Miguel Mathis | 14,034 |
| 3 | | Benedek Takacs | 13,220 |
| 4 | | Karim Farrag | 12,325 |
| 5 | | Paul Gonzalez | 12,244 |
| 6 | | Alex Smith | 12,228 |
| 7 | | Adam Goad | 11,305 |
| 8 | | Thimi Christiaens | 10,550 |
| 9 | | Harold Castiaux | 10,322 |
| 10 | | Andrew Glen | 10,217 |
G17

| | | | |
| --- | --- | --- | --- |
| 1 | 1 | Alesya Aleshina | 17,628 |
| 2 | 1 | Tereza Siroka | 14,866 |
| 3 | 1 | Chukwu Chinyere | 14,422 |
| 4 | 1 | Marie-Amélie Callebaut | 14,050 |
| 5 | 1 | Niki Shemirani | 12,727 |
| 6 | 1 | Moa Bönnemark | 11,606 |
| 7 | 1 | Eliska Jicinska | 11,249 |
| 8 | 1 | Simona Frevel | 11,172 |
| 9 | 1 | Serena Daniel | 10,797 |
| 10 | 1 | Klára Kohlerova | 10,674 |
B15

| | | | |
| --- | --- | --- | --- |
| 1 | | Denis Gilevskiy | 14,437 |
| 2 | | Rowan Damming | 10,341 |
| 3 | 1 | Samuel Gerrits | 9,325 |
| 4 | 1 | Dylan Moran | 7,501 |
| 5 | 1 | Karl Bundy | 7,388 |
| 6 | 1 | Jan Cerovac | 7,204 |
| 7 | 1 | Mohamed Ouda | 7,044 |
| 8 | 2 | Joakim Jepsen | 6,891 |
| 9 | | Antonin Romieu | 6,773 |
| 10 | 1 | Abdalla Hafez | 6,511 |
G15

| | | | |
| --- | --- | --- | --- |
| 1 | | Asia Harris | 10,429 |
| 2 | | Franka Vidovic | 9,629 |
| 3 | | Naomi Nohar | 9,372 |
| 4 | | Riana Alexova | 9,160 |
| 5 | | Malak Khafagy | 8,568 |
| 6 | | Amelie Haworth | 8,152 |
| 7 | | Lea-Iris Murrizi | 7,882 |
| 8 | | Chloé Crabbé | 7,805 |
| 9 | | Sofia Rodríguez Bello | 7,429 |
| 10 | | Ana Munos | 7,346 |
B13

| | | | |
| --- | --- | --- | --- |
| 1 | | Martin Stepan | 6,219 |
| 2 | | Trofim Aleshin | 5,887 |
| 3 | | Axel Diet | 5,211 |
| 4 | | Jan Samborski | 5,138 |
| 5 | | Sebastian Hylland | 4,640 |
| 6 | | Alexander Broadbridge | 4,570 |
| 7 | | Vojtech Martinovsky | 3,983 |
| 8 | | Alexander Neumann | 3,817 |
| 9 | | David Linhart | 3,731 |
| 10 | | Aleksei Maslov | 3,418 |
G13

| | | | |
| --- | --- | --- | --- |
| 1 | | Rana El Sayed | 6,529 |
| 2 | | Maya Weishar | 5,418 |
| 3 | | Milena Velychko | 5,153 |
| 4 | | Nour Khafagy | 5,035 |
| 5 | | Elisenda Ruiz-Kaiser | 5,013 |
| 6 | | Karolina Sramkova | 4,825 |
| 7 | | Ona Blasco | 4,502 |
| 8 | | Sara Nedič | 4,497 |
| 9 | | Lauren Baltayan | 4,488 |
| 10 | 1 | Estela Martín Sánchez | 4,419 |
European Squash Federation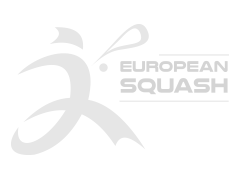 ESF, Prague
18/04/2019 to 21/04/2019
EJTC U19 2019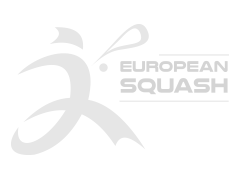 ESF - Croatian Squash Federation, Zagreb
26/04/2019 to 28/04/2019
BU13, GU13, BU15, GU15, BU17, GU17, BU19